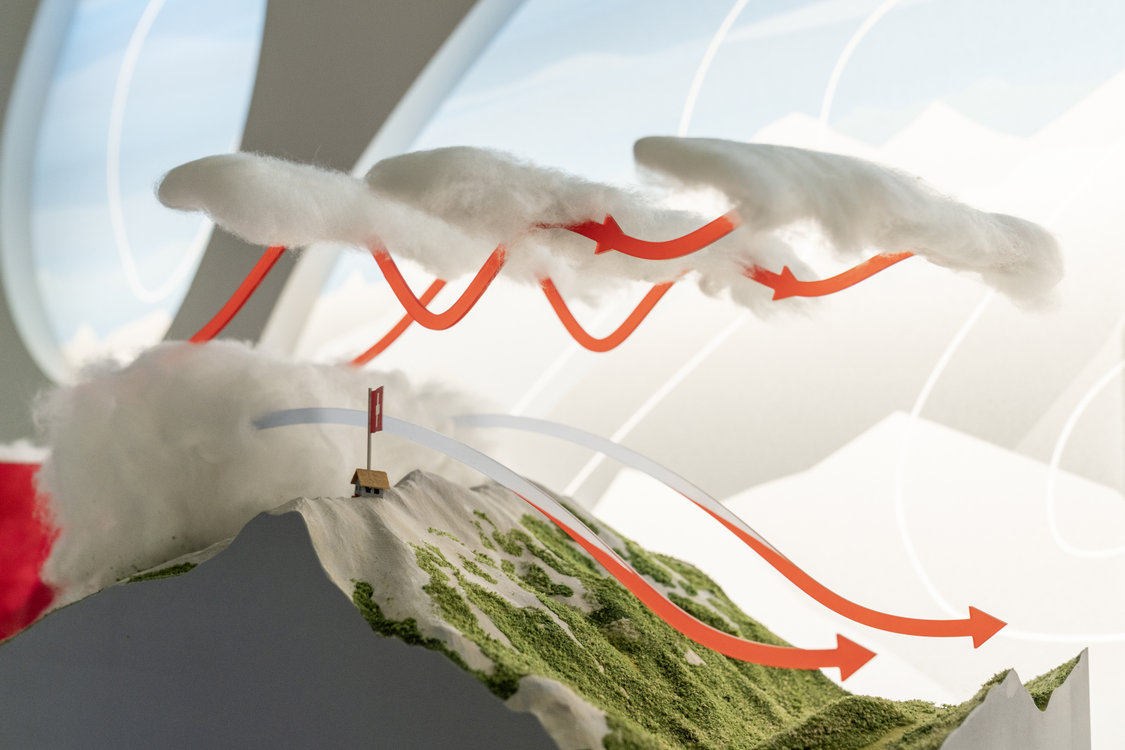 Fascinating facts about wind and weather, snow and ice, geology and the history of the suspension railroad await you.
Dive into the interactive world of experience for young and old:
«Säntis – the weather mountain».
Säntis is the mountain of weather records. Here the weather is always spectacular. At least as fascinating is the adventure world on the Säntis summit, which playfully turns any weather into an interactive experience: Discover global climate and weather extremes in «Säntis – the weather mountain» – and create a tornado yourself.
«Säntis – the world of ice».
Accompany the «jewels of the sky» on their way from snow crystal to glacier ice. In «Säntis – the world of ice» you will experience ice to play with, experiment with and marvel at. Wander through the ice ages and uncover the secrets of local and global ice phenomena or the natural force of avalanches.
«Säntis – the story»
The interactive picture gallery «Säntis – the story» shows historical and memorable moments of the Säntis aerial tramway – from the pioneering idea to the first railroad construction works or the terrible avalanche accident of 2019 to today's tourism, hotel and mountain railroad operations. A time travel through 90 fascinating years.
«Säntis – the geology».
Already about 130 years ago, the famous geology professor Albert Heim declared Säntis to be the «most geologically interesting mountain range in the world». The exhibition brings you very close to the world of Säntis rock including fossils.
Let us spoil you with culinary delights: Combine the trip to the Säntis summit with a rich breakfast buffet (daily from the first ascent until 10:30 a.m.) or a traditional menu of the day.
Price
The exhibition is free of charge and open during the opening hours of the suspension railroad.
Images