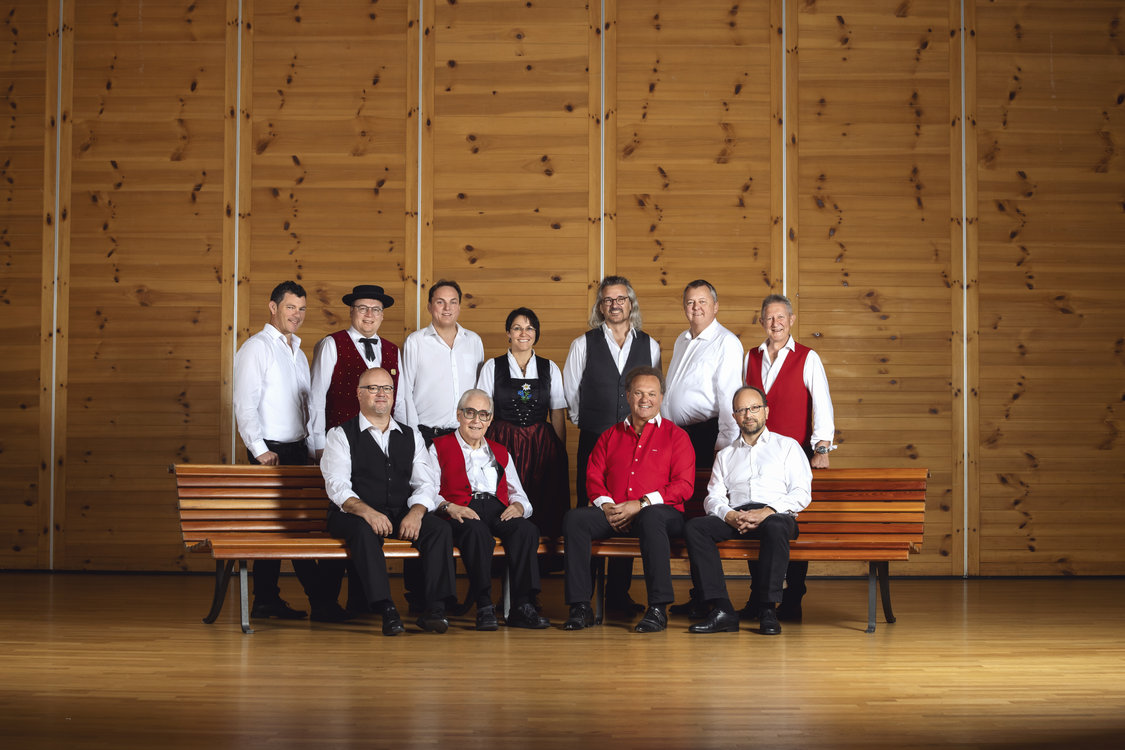 Under the motto "Weisch no ufm Schifflibach?" well-known bandmasters and musicians present traditional Central Swiss country music at its best.
Between the musical entertainment we will spoil you with culinary delights.
Program:
Until 6.15 p.m.: mountain rides
18.00: Opening of the hall with hors d'oeuvres buffet
6.30 p.m.: Start of the concert in the panorama restaurant
19.15: Serving of the main course
20.15 o'clock: 2nd part concert
21.00: Dessert buffet, followed by downhill rides
Performers
Sepp Huber (double bass), Sämi Studer (yodel), Jörg Wiget (accordion), Sibylle Süess-Aeby (yodel), Dani Häusler (clarinet), Ueli Stump (piano), Jost Ribary (clarinet), seated from left to right.l.t.r. Thomas Hauri (trombone), René Wicky (accordion), Carlo Brunner (saxophone), Fredy Reichmuth (accordion)
Appetizer buffet:
Säntis Riesling cream soup
Crisp salads with various sauces and garnishes
Appenzeller Mostbröckli-Carpaccio with Schwägalp cheese and arugula
Toggenburg roast beef with tartar sauce
Boiled meat salad with horseradish
Tomato salad with Appenzeller fresh goat cheese
Chäs Schoope Flammkuchen
* * *
Main course:
Toggenburg Chemispitz with herb sauce
Rheintaler Ribelmais and seasonal vegetables
* * *
Dessert buffet:
Various mousses and creams
Fruit salad and caramel potatoes
Various small tarts and slices
Meringues with whipped cream
Toggenburg, Appenzell and Schwägalp cheese
Reservations are required.
Price
Adults from 16 years CHF 118.00
Images